Mass Schedule
Monday
Communion Service: 8:30 AM
Tuesday - Friday
Mass: 8:30 AM
Saturday
Mass: 5:00 PM
Sunday
Masses: 8:15 AM, 10:15 AM & 6:00 PM
Holy Days
8:30 AM & 7:00 PM
Sacrament of Reconciliation
By appointment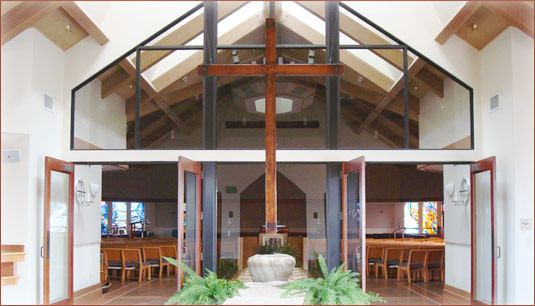 Welcome to Resurrection Catholic Community. All are welcome.
---
Busted Halo:  Lent in Three Minutes
https://drive.google.com/file/d/1T2wpBiZzSev1Z8aJh0OJZ4Jv3fWJ69E5/view
---
Stations of the Cross:  Fridays (February 23, March 2, 9, 16 & 23) at 12:15 pm.
---
Sign up to get your portrait taken for our new Parish Directory:  Click Here.  You may also call the parish office to schedule a date.  We hope you will participate!  Photography Dates:  April 3-7, 2018.
---
Rising in Christ:  The Rite of Christian Initiation for Adults:
http://digest.theologika.net/rising-in-christ-the-rite-of-christian-initiation-for-adults/
---
Blessings & Dreams Survey:  Resurrection Parish is in the process of pastoral planning for the future. Our current Pastoral Plan is expiring and we are in the process of collecting data from everyone connected with Resurrection Parish. We invite you to participate in this process by completing this survey. We ask that you prayerfully respond to the questions.  Click Here to launch the survey.
---
This Week's Bulletin: Click Here (For other bulletins, documents, flyers, calendars, schedules, etc.  Please click on the tab above, Resource Center)
Parish Registration Form:  Click Here.   Print and mail to the parish or drop in the collection basket.
---
For the Sacrament of Baptism contact Deacon Patrick Conway in the parish office at 831-688-4300
For the Sacrament of Marriage please see our Marriage Guidelines (click here).  After reviewing please contact Kary Bagnall in the parish office at 831-688-4300 x14
For the Sacrament of the Anointing of the Sick and Reconciliation call the parish office at 831-688-4300.

---
Resurrection Catholic Community is Dedicated to Growing in Christ and to the Challenges of Loving Service.
Useful Links
USCCB Readings